Dynamic University achievements in 2015
06.01.2016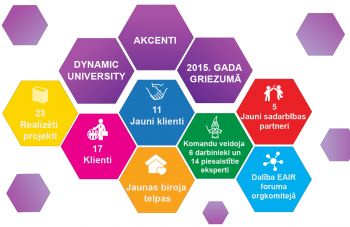 In 2015 Dynamic University was working on 23 projects. Out of those six projects launched in 2014 were completed, whereas some of the remaining are being implemented this year.
In overall, we are pleased about the achievements of the foregoing year: "Year 2015 brought us numerous new and exciting challenges consequently refining our experience and opening up new cooperation opportunities. I am glad about our achievements and those of our partners and I do wish us ...
read more >>

19.08.2014
The project "University-Business Cooperation Through Success Stories" (hereinafter – UBC) is coordinated by the "Knowledge Triangle Network" and it is implemented with the financial support from Nordplus Horizontal and DPA SQUALIO. The objective of the UBC is to promote cooperation between research and education institutions and the private sector, providing examples of a successful coop...
News archive >>
29.09.2016
"Aspired" Ltd. involved "Dynamic University" Ltd. in the process of developing a project application within the framework of the program "Interreg V-A Latvia - Lithuania Programme 2014-2020" (hereinafter – the Programme). The application was developed for two Latvia - Lithuania cooperation projects: "Generation Z for the Environment" and "Improving STEM education".
Project archive >>